My Healing Journey to Brazil
The Departure to Brazil….
It was a busy departure, fitting in one last client and putting those last few things in the suitcase.  My heart was very warmed at the number of people who sent such blessings and good wishes to me on my healing journey to see John of God.  It was a little bitter sweet departure,  excited at the journey before me, the magic, miracles, synchronicities and possible adventures awaiting but  leaving  those that depend on me on a daily basis, pulled at my heart.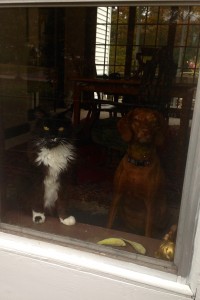 My 14 year old cat – Zip and 7 year old Vizsla watching me as I leave for the airport.
It did not take long for the universe to present the magic and  synchronicity that is always present if we allow it.  Patrick and I were sitting in the crowded Food Court in Atlanta getting a bite to eat before we caught the next flight to Brazilia.  A man was standing behind me with a large back pack on his back unknowingly banging into me.  Just as I was about to tell him what was happening I heard him say "do you know John of God" to someone next to him.  We quickly introduced ourselves and told him we too were going to see John of God.  His sister, Kathleen an intuitive, medium, and  psychiatrist had been four times and was going again with friends and family.  What are the chances of  running into people going to see John of God in a crowded Food Court in the Atlanta airport!  The synchronicity continues……We finally start boarding the plane and unknown to Patrick and I,  we end up sitting next to each other! We did not plan it, it just happened.  Boy,  if people don't think the universe is the real orchestrator of events,  all they have to do is  observe and they will be amazed at the ongoing miracles.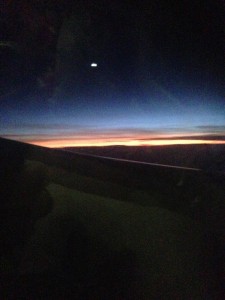 Our logical minds can easily rationalize those events away as a normal coincidence  or we can be in awe and marvel at  how the universe works.  I tend to enjoy being in awe and gratitude for the things that come to me for my highest and best.  I will admit, at times I complain and grumble that things don't go my way.  However when I look back after my complaining I notice it all happened for the best of everyone.
A picture of the sunset with the moon over head taken from inside the airplane.
Comments
comments